eStreet
eStreet provides a platform for managing an online street team in order to promote musical acts, sports teams, and other organizations where there is a strong group of passionate followers.
eStreet encourages fans to work for you, promoting both online and offline, in exchange for points that can be redeemed for special rewards. It has found great success when associated with big-name acts such as Gavin DeGraw and The Avett Brothers.
Each eStreet installation is customized for your needs. Several features are available such as event calendars, message boards, chat rooms, mailing list functionality, and even dynamic flyer creation.
Why choose eStreet?
Choosing eStreet has many advantages including:
Installation on YOUR server under YOUR web address
Endless flexibility and custom features
Personal attention and help
Customized look & feel
Who's using it?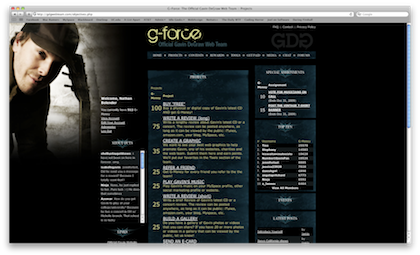 How to get eStreet
eStreet @ Fanrising
Fanrising from Sunrise Promotions is an all-inclusive service that includes eStreet hosting, as well as day-to-day management of your street team and correspondence with your members.